Whether you work for a large or small company, every dollar spent on marketing should count. That means utilizing what is readily available and using the right tools to be productive.
In 2010, Telaeris started using a marketing automation tool called Infusionsoft which we talked about 在这篇文章中. Our goal with Infusionsoft was simple at the time. Turn website visitors into customers. The formula was straightforward. Provide useful content to the email inboxes of our potential customers on a regular basis. In this way we were "nurturing" our customers, so when a genuine need arises, our company and products would be top-of-mind.

And it worked. One of our favorite stories was when a customer called to order our XPressTools库存计划. He raved about the e-mails he received from our employee "Liz" and recommended we give her a raise. The funny thing was "Liz" had left the company some months earlier, but this customer was still on her campaign. It was so well done, that he was unaware that it was from the system. The power of the consistent followup was clear and powerful.
But our goal for Infusionsoft was 营销自动化 - 不仅仅是电子邮件培育。 我们参加了 Infusionsoft ICON会议 and engaged with one of their paid experts for 6 months. We had committed significantly to the goal of being able to automate our marketing processes. While we received some useful information, neither paid the dividends we needed.
此外,Infusionsoft平台还有许多真正的难点:
Complicated – new users need significant help to get started.
昂贵 - 即使是基本系统。
特色 - 仅收取额外费用。
Integration – available from paid partners.
Advice – required paid "experts".
客户服务 - 缓慢或不存在。
And even the parts that did work for us caused problems, such as when we needed to set up an email campaign for a trade show. Instead of our team focusing to create great content and marketing collateral, they would waste significant time fighting the vagaries of Infusionsoft.
在2015的后期,我们收到了一封带有光滑视频的电子邮件。
We liked the video form so much that we stole their approach to create our 集合视频。 他们的营销推动了我们的营销 - 模仿是最真诚的奉承形式。
But their message was also timely. After not receiving answers to our support requests multiple times from Infusionsoft, we realized we needed to

try something else. We enrolled in Drip's free three week trial and here is what we found:
没有安装费。
将联系人导入 滴 快速无痛。
不需要培训或有偿顾问。
客户支持团队的快速响应。
轻松的远程Web API功能。
漂亮的仪表板。
不到我们为Infusionsoft支付的费用的一半。
Within 1 week we moved all of our campaigns to the Drip platform and migrated all of our web forms into our website running on WordPress. As an unexpected bonus, we found that we were able to import our customer lists into Drip for broadcast purposes, allowing us to send out our newsletter at no additional cost. This allows us to keep our MailChimp account with a smaller total list count, allowing us to drop a payment tier with them as well.
So is Drip for you? Maybe.
滴灌是一个非常有针对性的客户培育工具。
它不是作为CRM构建的(我们使用自己的!)。
It isn't meant for sending unsolicited emails (MailChimp非常适合这个).
But for us it did exactly what we needed – Drip Marketing. After a month, we are continuing to enjoy its simplicity and functionality.
有趣的是,我们可能只会留在Infusionsoft,支付更高的费用, had they been responsive. After not receiving responses to requests for a phone call for over a month – it was time to make a change. Below you can see our modification to their "perfect customer flow" which shows what they forgot. Your existing customers are your most important customers.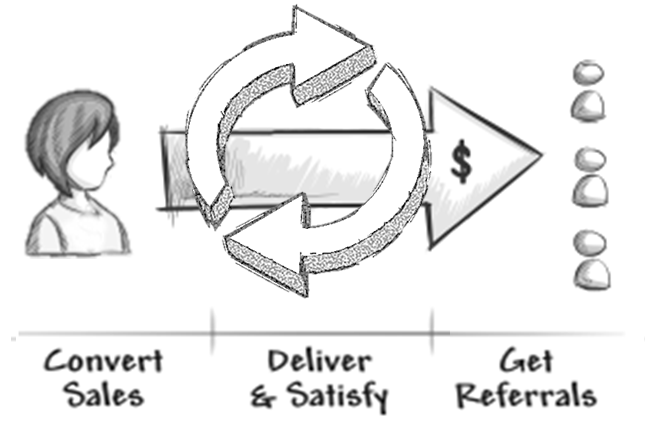 Infusionsoft does a great number of things and I personally know people who are making it sing. But without having a certified expert on staff, I'm not sure how well it maps to small businesses these days. Drip has a fabulous laser-like focus for what we needed at a great price.
如果您找到适合自己的工具,请通过发表评论发送给他们!
* Drip对此博客没有任何补偿!