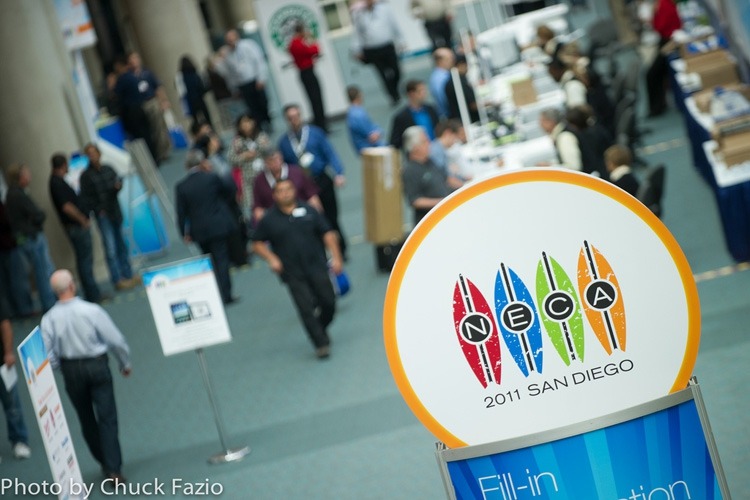 Last month Telaeris attended the National Electric Contractors AssociationXCHARXs 2011 Conference in San Diego. Telaeris has exhibited in a number of trade shows in the past, but this was my first. As the designated lead for the show, I was responsible for planning, preparing, and exhibiting our products on the trade show floor. This experience opened my eyes to how beneficial attending trade shows can be for a company. Our show ran smoothly and we walked away with some great leads. For anyone who is planning to exhibit at a trade show in the future, these tips are for you!
1) A flashy display means nothing if your team is lackluster. Save the money you were going to spend on a great looking display, and maybe consider using it to train your sales staff. A modest and clean display is all you will need if your team is engaging, friendly, and interactive. 我们发现产生的一些最佳潜在客户是因为我们的销售团队并不害怕走出过道来吸引客户。
2) Uhh… What do you guys do? 如果有人走到你的摊位,看着5秒的所有东西,然后转向你并询问"你们做什么?"然后你们失败了. And more likely than not, if they can't tell what you are selling while they are walking past your booth, they won't even slow down. 你的标牌应该清晰简单。 如果您的公司名称没有明确说明您的操作,请找到一个标语或短语,并将其作为您显示器的焦点​​。 像Telaeris这样的名字,我们选择使用"Track Your Stuff!"这个口号来描述我们的资产跟踪产品UCTS 我们知道会对展会上的每个人感兴趣。

3) Keep your focus on the sale。 虽然宣传和品牌很重要,但不要忘记您参加贸易展的主要原因。 卖你的东西。 如果您不销售现成的产品,那么尽可能多地收集销售线索。 You do not want to leave a trade show without having a plan for the next step of the sale – the follow-up. And back at the office, take the leads you gathered at the show, follow-up with them, and keep them in your system.
4) Get instant feedback on your product. Some of the most valuable feedback we received at the show was not the praise, but the criticism. If there was something our software was lacking or something that the prospect didn't like we knew it right away. They just told us. Making notes about this feedback provided us with information we could pass along to our development group to 让我们的产品更好er. In our case, a number of people had a requirement for 跟踪对其资产的检查. We listened and are rolling out this feature into XPressTools (formerly known as TagTrakker) next week.
5) Meet people. This might sound obvious, but I'm not just referring to the people attending the trade shows. Spend time networking with other exhibitors and taking a look at the other booths. Get ideas for what to do at your next show by noting what you do and don't like about other booths. Trade shows are also great ways to meet potential business partners and find teaming opportunities. Chances are, you are targeting the same market if you are both at the same trade show. Find companies that complement yours and get to know them. You might even surprise yourself and find that your competitors and you have ways to win more business by working together. In our case, we found a signage company whose customers needed to track their assets using RFID. This provided us with a win/win solution – they were able to better serve their clients and we received access to a larger customer base.
作者:Telaeris营销分析师Liz Womack